July 2015 in Western Park, Auckland
What a mesmerising sight of colour and movement caught my eye when visiting an Auckland park this July – over 50 monarch butterflies dancing and feeding on the yellow flowers of the naturalised german ivy (Delairea odorata). The monarch butterfly (Danaus plexippus) is New Zealand's most identifiable butterfly. We consider it a native because it was self-introduced in 1870s having 'island hopped' from North America. Not only that it is dependent on the introduced swan plant (also known as milkweed) for survival.
Differences in migration in New Zealand
Monarchs here do not follow the same migration pattern as their northern relatives where they can travel up to 9,000 km to winter over in Mexico. This incredible migration has recently been disrupted through climate change and loss of habitat.
A captivating read about monarchs and migration is beautifully portrayed in Barbara Kingsolver's recent novel Flight Behaviour
Lifespan according to season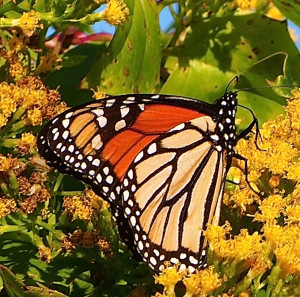 New Zealand monarch's have adapted their migration behaviour to suit local conditions. When the air temperature drops to 12.8°C, monarchs flock together in overwintering sites. These sites tend to be in milder coastal locations where the temperature remains at least 10°C. The generation of monarchs that are born in autumn don't mate till spring and live longer (6-9 months) than previous generations which live between 4-6 weeks.
Where to find monarchs wintering over in NZ
Overwintering monarchs prefer sites that are sheltered from the wind, have trees with a rough bark surface on which to cling and have a nearby source of nectar. The butterflies are mostly inactive, but on warm days, they fly, bask in the sunlight and feed on nectar as I witnessed here in Auckland
More resources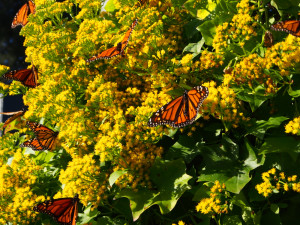 Swarms form regularly to overwinter at places such as Tauranga Bay in Northland. The Monarch Butterfly New Zealand Trust (MBNZT) http://www.monarch.org.nz/monarch/ was initially formed to protect this site. Other overwintering sites include areas of Hawke's Bay, Nelson and Christchurch. See this resource for where to find them in Christchurch http://resources.ccc.govt.nz/files/MonarchButterflies-environmentecology.pdf
When the temperatures warm up, butterflies move inland to reproduce.
Protection from predators
Monarchs use bright colours and the toxicity from their larval swan plant food source as defence mechanisms. This is enough to keep vertebrate predators away, with the exception of the shining cuckoo.
Male female difference
Males are a bit bigger than female monarchs and have a spot known as the androconium in the middle of each rear wing. Wings of females boast of darker veins.
Go looking…

Finding a resting site of hundreds of monarchs is such a 'wow' experience – the vibrant colours, the beauty and grace and a chance to study them closely as they rest up ready for the next stage in their cycle.